Christian Cache Mega Bundle
Suellen Estes
ChristianBloggersInternational.com
Marnie Swedberg
WomenSpeakers.com
 

  Congratulations!! You are In!!
It's Time to

Grow Your Faith       Establish Your Purpose and Strategy

  
Discover Tools and Techniques for Your Success
Online Courses, Live Coaching, and much, much more!!
You are going to love your new products.
You have until June 17, 2021 to download them. Take time to browse through.
Heads up!! Some will require Coupon Codes. Enjoy!!
Marnie Swedberg's Courage and Clarity Road Map Package
Helps you move from concerned or confused to clear and courageous.
Explode your fears with FAITH BOOSTERS from Marnie's Success Principles Intensive (SPI) Coach Certification Program.
Gain insights and clarity as you take the Mission/Vision Workshop (Value $99).
Get motivated and accountable in 21 Day Win Group Coaching with Marnie (Value $99).
You'll download a Get-It-Done Workbook (in Word.doc or PDF format), then join others in the private FB coaching group where you'll get encouragement and practical tools for staying on track.
 From
Tracy Roberts and Susanne Myers, Creators of Premier PLR Products since 2004

Profit From PLR, an $87 value

You'll get all this:  30 articles, 30 emails, 30 social media posts, and eBook compilation of the existing articles.
  Boost Your PLR ROI eBook and Workbook combo and our handy "How to Run an Email Challenge" Guide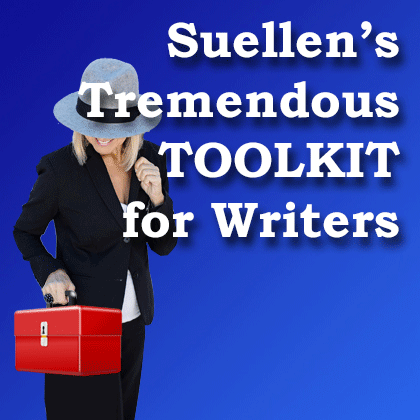 ($197 Value)  
Suellen's Tremendous Toolkit for Writers
This is a perfect companion to Profit From PLR.

The toolkit includes two videos. One with insights into that very special product: PLR (Private Label Rights).
These resources can become like your very own staff of writers – enhancing all of your writing demands.

The second video shares best practices for RESEARCH in your writing.
Plus Bonus: some eBooks to inspire your best writing.
Born to Influence – 5 Creative Ways to Preserve your Legacy
by Jodie Randisi, Author, Speaker, and Publisher of Amazing True Stories.
This Online Course  provides Creative Ideas with Illustrations and Instructions to get you
motivated so that your Inspirational Teaching Gift can be Extended and Preserved.
As an author coach, Jodie helps writers become
distinguished authors.
As the Education Architect, she helps educators, authors, and subject
matter experts extend and preserve their inspirational legacy by revitalizing their content and
transforming their material into highly engaging eLearning experiences.
    Start Every Day with a Faith Boost from Rev. Bill McBride
Rev. McBride has preached, taught, and led spiritual seekers for over 45 years in active full-time ministry.
75 Christian and self-help books &
2 very active blogs have encouraged followers across the globe.
Rev. McBride's specialty is teaching people to Connect with their Angels. He & his wife also host a Coaching Site.
From Dr. Saundra Dalton Smith
Be Your Own Publicist

Release the Message You Were Meant to Share
Publicity is a Must for those who want to get in front of their Target Audience
You can save $2,000-$5,000 being your own Publicist.
Create Pitches that Work
Build Your Own Email List
Grow Your Influence
How to Build Your Personal Brand

by Norma Allen Esler
Take advantage of your own style and personality.
Build a Personal Brand that reflects your own unique characteristics and values and GET NOTICED as you're building your online presence.
Norma says, "I started working online in 1997 – in the dinosaur days of the internet.
My purpose at HomeFreeMedia.com is to help YOU by developing and recommending top quality training, products, and tools so that you can build the business of your dreams" 
  Dwell in The Word Bundle

by Sandi Pierce
Before the Bench Ministry
DWELL in The Word now and
everyday with these doable, easy to follow self guided studies
Developed to encourage you to grow in your faith and stay rooted and
grounded in the Word:
What's Included?
God is Our Refuge Study,
Gospel of John Discipleship Study Workbook,
PLUS a bonus FREE Online Workshop
Sandi is offering in May called "Speak the Word Fearlessly."
  Inspirational Author and international Speaker  Kim de Blecourt presents
One Sheets that Will WOW! E-Course
What is a One Sheet? It's a concise, well-crafted document which presents you as a polished professional author.

In just a few seconds, literary professionals can get a grasp of who you are and what your book represents.
Join author, Kim deBlecourt, and discover secrets behind developing book idea one sheets.
This secret can make the difference in your next book promotion!  This e-course (with note pages) is a $100 value.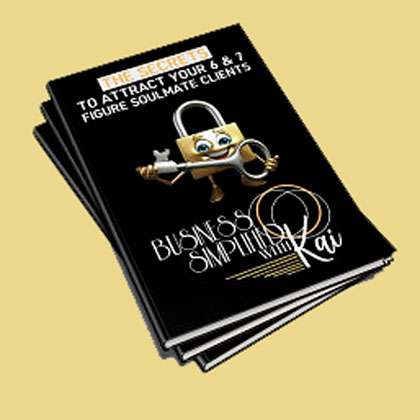 From Business Consultant, Kai Campbell
The Secrets to Attract Your 6 & 7 Figure Soulmate Clients Playbook
You will receive all the secrets, tips, exercises, and strategies you need to position your business to attract high end clients on repeat ($47 Value).
Plus BONUS:
FREE 30-minute Business By Design call to identify revenue generating activities to move the needle in your business to get more sales
($500 Value).
Join Leslie White
for a 30 Minute LIVE Coaching Session
This interactive session includes the demonstration of techniques which can help you forgive yourself and others.
 You will discuss the benefits of forgiveness and the freedom we find when we show the willingness to forgive.
There will be an open dialogue for participants who want to ask questions
or get help with their particular situation.
Called To Be a Voice in the Wilderness
by Pastor Lisa Miller
Pastor Lisa Miller is an Author and Speaker – often called to give the Keynote Address at Christian Women's Retreats.
Pastor Miller has often worked with abused and neglected children. With a certification in the prevention and intervention of human trafficking, she speaks to groups to bring awareness to the growing industry of child sex trafficking and what we need to do to help
The Voice In The Wilderness Bundle is a selected group of tools to help you use your gifts to be a light in the darkness. 
Relationship Hurricane Disaster Preparedness 101

by Psychologist, Dr. Kay Julien
Dr. Julien is a private practice Conflict Transformation Coach and an experienced speaker on transformative conflict in national, professional, and faith-based contexts.
Kay serves Christian women by equipping them with uncomplicated practical conflict communication strategies based on a biblical foundation and proven conflict resolution principles.
She empowers her clients to confront difficult relational conversations and effectively address them.
Fear of Failure
a Video brought to you by
Dr. Clay Nash
In this video, Dr. Nash shares a message to help you embrace your failures.

Some of Life's Greatest lessons can be learned as we experience the pain of defeat.
When we embrace the concept of "failing forward," we can truly succeed.

Dr. Nash is an International Bible teacher and Prophet.  He serves on the Board of NEI and Dutch Sheets Ministries
Bonus: EBook of Spiritual Confessions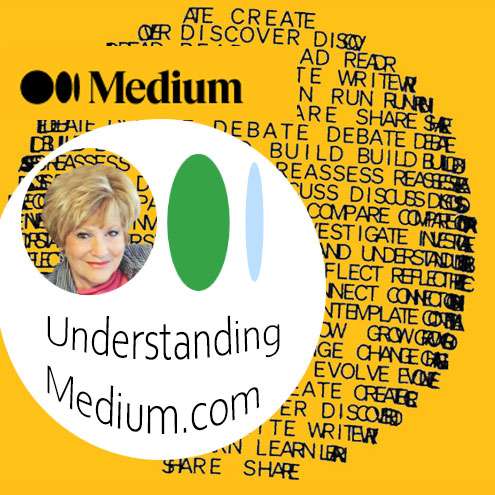 Understanding Medium.com
Have you discovered medium.com, the Website for Writer and Readers?
It's a wonderful platform for writing your articles and networking with other writers in your niche.
In this video, Suellen explains how to set up your site on Medium. Along with best practices.
Oh, and how to make some money while you are doing it!
From Dr. Cheri Strange
Life Principles for Living Out the Greatest Commandment
What if Jesus meant what He said?
What if we could truly love God with all our hearts soul mind and strength?
What does this look like in everyday life?
Dr. Cheri Strange answers these questions and more in this six session series,
Perfect for individual or group use.
Also included is the Participant Guide, normally sold separately from Amazon.
– Take advantage of your own style and personality. Build a Personal Brand that reflects your own unique characteristics and values and GET NOTICED as you're building your online presence.
Value of product – $39
 12 Life Strategy Checklists
Brought to You by Heidi Richards, Coach and Consultant
Learn to Master Your Time, Your Productivity, and Your Lifestyle
> 1. Time Management
> 2. Financial Planning
> 3. Goals Overview
> 4. Emergency Preparedness & Supplies
> 5. Public Speaking
> 6. Passive Income Planner
> 7. Eliminating Limiting Beliefs
> 8. Reputation Assessment
> 9. DeClutter Your Mind
> 10. Developing Your Strengths
> 11. Enhancing your Image
> 12. Stuck in a Rut?
  From Maria Silvo and Artsy Challenge

Rose Themed Daily Planner
Artsy Challenge provides creative graphics and digital content
for low content products such as coloring books, journals, printables, planners, among others.
This planner can be rebranded and for you to use or sell.
Maria Silvo, a homepreneur, owns and runs it since 2018.
Maria Silvo is a self-taught artist, product creator, and creative entrepreneur.
Her vision is to make her site a place where doubting creatives can start creating.
Gratitude Journal
by Lynette Chandler and
ThriveAnywhere.com
Build your list or reward your clients with this beautiful printable devotional journal designed to help anyone prayerfully meditate on their daily blessings.
Or, use it yourself!
Commercial use license included.
Thrive Anywhere creates beautiful workbooks, journals and planners you can re-brand for your business to grow your leads base or add value to your products.
From Writer and Speaker
Kris Howsley King
A Life Study Survey- Purpose Finding Tool
50 questions that help you explore and know yourself better- so you can understand your God given purpose… why you are here and what you are to do for the kingdom!
Bonus: Cell Phone wallpaper-"Queen-Live your purpose, love your life!"
Screen wallpaper to remind you of your God sized worth! You are "Queen" of yourself and when you live in your purpose, you will love your life!
You've been Crowned by HIs grace, for His purpose!
Hand-Drawn Cats for Coloring Books
Artsy Challenge provides these hand-drawn cats for your projects.
With Coloring Books all the craze, these fun, artsy cats are sure to be a success.
These drawings are PLR and rebrandable. You can sell them as your own.
Maria Silvo, a homepreneur, owns and runs Artsy Challenge since 2018.
Maria Silvo is a self-taught artist, product creator, and creative entrepreneur.
Be a SuperGramma
by Carol Bremner
Free

Taste of the SuperGramma Membership –
Printables and Powerpoint training to give you a taste of the quality products enjoyed by members of the SuperGramma Community.
Value $50.
Carol Bremner is one of a select breed called SuperGrammas.
She says, "We use technology as a superpower to become a hero to our families."
Why not become the best you can be and positively influence the next generation, while becoming the hero of your own story?
 From Jessica Bise
and Livelearngrowinfaith.com
14 Nights of Resting in Jesus
A 14 night Guide to get you started
in Knowing Him and
Seeking His Goodness and Faithfulness for Yourself 
Download for Yourself…Share with a Friend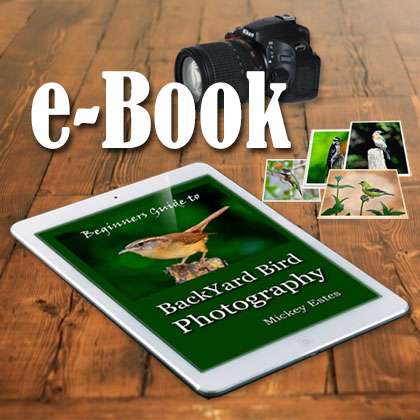 Mickey Estes presents
Beginner's Guide to Backyard Bird Photography
Mickey Estes is a photographer
with more than 65,000 downloads from his Pixabay account.
He loves sharing his special techniques for drawing birds to his backyard and capturing them in photos.
In this eBook, you will learn how to set up a "backyard studio" and how to plan for your best photos.
Dr. John Estes,
Chairman of the Mathematics Department at Belhaven University
invites you to his YouTube Channel
John Estes Math
Do  you know some college students who need some extra help in Math?
This Channel provides tutorial videos in many different Higher Math subjects.
Dr. Estes knows Math and he knows College Students. His tutorials have helped many!
Be sure to subscribe to the channel